Main Features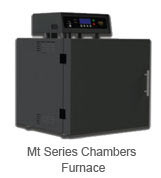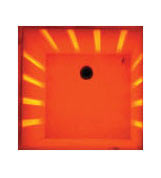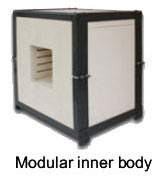 • Accuracy: ± 2°C in temperature measurement & temperature control
• Chamber walls made up of insulating fire bricks against mechanical abrasion and thermal aging and deformation.
• Half buried heaters at two sides and top in quartz tubes. Resistance's placed in quartz tubes which rise to longer life of resistance against corrosive gases & protected against short circuit.
• Tight door insulating thanks to spring mechanism.
• Modular inner body; replacement and fully renewing the furnace.
• Homogeneous temperature gradient in the chamber thanks to similar heat loss in every direction.
• Maximized the optimum insulation (112mm) thickness to reduce the temperature of the outer surface (outer surface is not very hot, possible to touch).
• Contact less outer shell for low surface temperature.
• Ergonomical PID control unit placement. Operating without leaning.
• Standard chimney with fan. Extraction of oxidizing gases which occur during the burning process and homogenous heating.
• Adjustable foot screw.
PID Control Units
PID control units are the most unique parts of our products. Mainly two different concepts are in service for the researchers and laboratory technicians according to application characteristics.
MT Series PID Control Unit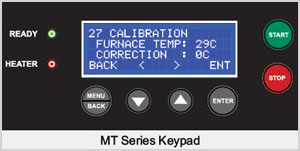 • User friendly menu
• 4 line wide display
• 2 - 6 program memories
• Direct or 2-16 step heating procedure
• Heating rate: 3-20 ºC/min
• Individual heating rate setting for each step
• ±1ºC accuracy in temperature measurement and temperature control
• Temperature calibration via menu
• Indicating the remaining time during the waiting step and possibility to skip the waiting
• Auto start at the preset date and time
• Sound warning at the step transitions and in case of errors
• Automatic heating cut off system, in case of overheated chamber or control unit
• Digital total heating time counter
• Average working temperature indicator