High Temperature Furnaces With SIC Heating Elements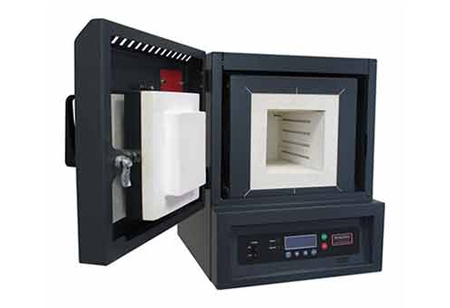 Furnaces heated by SIC or MoSi2 Heating Elements Furnaces from 1400° C to 1550°C are mostly equipped with SiC heating elements. Because of the atypical temperature-resistance characteristics of them, it has always been difficult to control the temperature during heating phase. When temperature raises, resistance of SiC elements decreases, which is an extraordinary behavior compared to conventional heating elements. Therefore it is very important and complicated to find the right voltage value for the control units.

SIC heating elements have also an aging disadvantage. Thermal shocks are accelerating the aging of the SiC heating element. Because of this reason it's not the right way to use the on/off control method on the SiC heating elements. To find the best solution for this handicap, it's suggested to use the widely known "Phase Angle Firing Method". Instead of periodically "full power" supplying, this method allows "required power" supplying continuously. This way, thermal shocks are eliminated.

SIC heating elements manufacturers suggest several methods for the control. For example: Voltage control method, current control with limitation method etc. The most advanced suggestion is power output control method. MagmaTherm engineers have decided to achieve more than manufacturers suggestions. Our furnaces are equipped with "Power output" and "Current Limitation" control method together. With this decision, it has been possible to both control the temperature and secure the electrical hardware and cabling against high current damage.

For the furnaces from 1500° C to 1800°C equipped with MoSi2 heating elements, MagmaTherm uses the same "advanced control and drive" method. It has been ensured minimum thermal shocks and long operating life for these heating elements.


• User friendly operating menu in 4 line display for easy operation.
• Using phase angle firingmethod for slowing down the inevitable aging of SIC heating elements.
• High cold start heating rate.
• Own unique electronic design and software's.
• Current limit control for safe operation.
• Durable inside lining made of high quality light insulating bricks and ceramic fiber boards.
• Accurate temperature measuring and controlling using S Type thermocouples.
• Designed for minimal space requirements in the laboratory thanks to highly engineered insulation design.
• Dual shell housing for low outer surface temperature.
• Optional protective gas connection, door switch.
• Lift up and Side words opening door possibilities.
• ±1 °C control accuracy.
1400°C

3Liter
6Liter
9Liter
16Liter
30 Liter
60 Liter
Inner Chamber Dimensions (mm) WxHxD
140x130x165
180x160x260
200x180x300
250x200x320
300x250x395
400x300x495
Product Outer Dimensions (mm) WxHxD
494x606x634
545x636x684
570x646x634
620x676x789
670x726x864
770x776x964
Net Weight (Kg)
48
56
66
78
87
96
Power (W)
3.750
7.000
8.200
6.800
10.500
13.300
Max Current (A)
17
2x16
2x19
3x13
3x20
3x25
Electrical Connection
1 Phase
2Phase
2Phase
3 Phase
3 Phase
3 Phase
Heating Element
SiC (Silicon Carbide)
SiC (Silicon Carbide)
SiC (Silicon Carbide)
SiC (Silicon Carbide)
SiC (Silicon Carbide)
SiC (Silicon Carbide)
Thermocouple Type
S Type
S Type
S Type
S Type
S Type
S Type
Heating Element Placement
Horizontally aligned next to the side walls
Horizontally aligned next to the side walls
Horizontally aligned next to the side walls
Horizontally aligned next to the side walls
Horizontally aligned next to the side walls
Horizontally aligned next to the side walls
Inner Insulation Material
Ceramic Fibre Board
Ceramic Fibre Board
Ceramic Fibre Board
Ceramic Fibre Board
Ceramic Fibre Board
Ceramic Fibre Board
Front Face Insulation Material
Insulating Fire Brick
Insulating Fire Brick
Insulating Fire Brick
Insulating Fire Brick
Insulating Fire Brick
Insulating Fire Brick
Door Insulation Material
Ceramic Fibre Board
Ceramic Fibre Board
Ceramic Fibre Board
Ceramic Fibre Board
Ceramic Fibre Board
Ceramic Fibre Board
Housing Material
Steel Sheet
Steel Sheet
Steel Sheet
Steel Sheet
Steel Sheet
Steel Sheet
Housing Coating
Epoxy Powder coating
Epoxy Powder coating
Epoxy Powder coating
Epoxy Powder coating
Epoxy Powder coating
Epoxy Powder coating
Chimney
Standard without fan
Standard without fan
Standard without fan
Standard without fan
Standard without fan
Standard without fan
Lockable Door Handle
Sidewards
Sidewards
Sidewards
Sidewards
Sidewards
Sidewards
Gross Dimensions (mm) WxLxD
554x666x794
605x696x844
630x706x894
670x726x864
730x786x1024
830x836x1124
Gross Weight (Kg)
64
75
87
103
116
132
1500°C

3Liter
6Liter
9Liter
16Liter
30 Liter
60 Liter
Inner Chamber Dimensions (mm) WxHxD
140x130x165
180x160x260
200x180x300
250x200x320
300x250x395
400x300x495
Product Outer Dimensions (mm) WxHxD
494x606x634
545x636x684
570x646x634
620x676x789
670x726x864
770x776x964
Net Weight (Kg)
48
56
66
82
91
100
Power (W)
5.100
6.100
7.000
7.200
11.200
14.200
Max Current (A)
2x12
2x14
2x16
3x14
3x21
3x26
Electrical Connection
2Phase
2Phase
2Phase
3 Phase
3 Phase
3 Phase
Heating Element
SiC (Silicon Carbide)
SiC (Silicon Carbide)
SiC (Silicon Carbide)
SiC (Silicon Carbide)
SiC (Silicon Carbide)
SiC (Silicon Carbide)
Thermocouple Type
S Type
S Type
S Type
S Type
S Type
S Type
Heating Element Placement
Horizontally aligned next to the side walls
Horizontally aligned next to the side walls
Horizontally aligned next to the side walls
Horizontally aligned next to the side walls
Horizontally aligned next to the side walls
Horizontally aligned next to the side walls
Inner Insulation Material
Ceramic Fibre Board
Ceramic Fibre Board
Ceramic Fibre Board
Ceramic Fibre Board
Ceramic Fibre Board
Ceramic Fibre Board
Front Face Insulation Material
Insulating Fire Brick
Insulating Fire Brick
Insulating Fire Brick
Insulating Fire Brick
Insulating Fire Brick
Insulating Fire Brick
Door Insulation Material
Ceramic Fibre Board
Ceramic Fibre Board
Ceramic Fibre Board
Ceramic Fibre
Ceramic Fibre
Ceramic Fibre
Housing Material
Steel Sheet
Steel Sheet
Steel Sheet
Steel Sheet
Steel Sheet
Steel Sheet
Housing Coating
Epoxy Powder coating
Epoxy Powder coating
Epoxy Powder coating
Epoxy Powder coating
Epoxy Powder coating
Epoxy Powder coating
Chimney
Standard without fan
Standard without fan
Standard without fan
Standard without fan
Standard without fan
Standard without fan
Lockable Door Handle
Sidewards
Sidewards
Sidewards
Sidewards
Sidewards
Sidewards
Gross Dimensions (mm) WxLxD
554x666x794
605x696x844
630x706x894
680x736x949
730x786x1024
830x836x1124
Gross Weight (Kg)
64
75
87
107
120
136
1550°C

3Liter
6Liter
9Liter
16Liter
30 Liter
60 Liter
Inner Chamber Dimensions (mm) WxHxD
140x130x165
180x160x260
200x180x300
250x200x320
300x250x395
400x300x495
Product Outer Dimensions (mm) WxHxD
494x606x634
545x636x684
570x646x634
620x676x789
670x726x864
770x776x964
Net Weight (Kg)
48
56
66
85
94
102
Power (W)
4.800
7.000
8.194
8.500
10.500
17.800
Max Current (A)
2x11
2x16
2x19
3x16
3x20
3x33
Electrical Connection
2Phase
2Phase
2Phase
2Phase
2Phase
2Phase
Heating Element
SiC (Silicon Carbide)
SiC (Silicon Carbide)
SiC (Silicon Carbide)
SiC (Silicon Carbide)
SiC (Silicon Carbide)
SiC (Silicon Carbide)
Thermocouple Type
S Type
S Type
S Type
S Type
S Type
S Type
Heating Element Placement
Horizontally aligned next to the side walls
Horizontally aligned next to the side walls
Horizontally aligned next to the side walls
Horizontally aligned next to the side walls
Horizontally aligned next to the side walls
Horizontally aligned next to the side walls
Inner Insulation Material
Ceramic Fibre Board
Ceramic Fibre Board
Ceramic Fibre Board
Ceramic Fibre Board
Ceramic Fibre Board
Ceramic Fibre Board
Front Face Insulation Material
Insulating Fire Brick
Insulating Fire Brick
Insulating Fire Brick
Insulating Fire Brick
Insulating Fire Brick
Insulating Fire Brick
Door Insulation Material
Ceramic Fibre Board
Ceramic Fibre Board
Ceramic Fibre Board
Ceramic Fibre Board
Ceramic Fibre Board
Ceramic Fibre Board
Housing Material
Steel Sheet
Steel Sheet
Steel Sheet
Steel Sheet
Steel Sheet
Steel Sheet
Housing Coating
Epoxy Powder coating
Epoxy Powder coating
Epoxy Powder coating
Epoxy Powder coating
Epoxy Powder coating
Epoxy Powder coating
Chimney
Standard without fan
Standard without fan
Standard without fan
Standard without fan
Standard without fan
Standard without fan
Lockable Door Handle
Sidewards
Sidewards
Sidewards
Sidewards
Sidewards
Sidewards
Gross Dimensions (mm) WxLxD
554x666x794
605x696x844
630x706x894
680x736x949
730x786x1024
830x836x1124
Gross Weight (Kg)
64
75
87
110
123
138