MagmaTherm MT Series Chamber Furnaces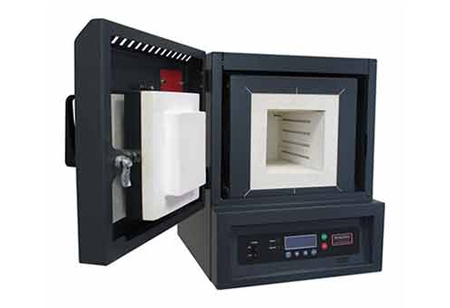 PRODUCT SPECIFICATION
MagmaTherm furnaces cover an extensive variety of applications including quality control, ashing, heat treatment, preheating, melting, metallurgical research and sample production and many more.

MagmaTherm furnaces are high quality products. They have been designed for heavy duty operation. Unique mechanical design provides long life and advanced PID control ensure reliability and ergonomy.
Whether you only need a simple instrument or a more versatile model to match your requirements, you are sure to find a suitable model in our range. Reliability and Long Life: Every element is designed and engineered especially for long lasting. High quality components such as heating elements in quartz tubes and high grade production standarts reward MagmaTherm Furnaces with satisfied and happy customers.

Ease of Use:
Easy menu helps to understand programming in five minutes. Tight door sealing with spring mechanism offers excellent insulation and easy lift up.

Safe Operation:
Automatic heating cut-off system increases safety in case of overheated chamber and control unit. Contact free double casing design offers safe touch.

Homogene Temperature:
Heating elements and insulation structure are designed for ideal heat distribution. Fan supported Chimney is a default feature.

Robust Structure:
Chamber walls made of refractory bricks, resisting mechanical abrasion, thermal aging and deformation.

Sideward / Lift-up Door:
Lift-up door and sideward door options are an opportunity for different spatial use of applications.


• Chamber walls made up of insulating fire bricks against mechanical abrasion and thermal aging and deformation.
• Magmathermfurnaces are high quality products.They have been produced for heavy duty conditions. Unique mechanical design provides long life and unique PID Control Unit provides reliability and ergonomics.
• Suitableforevery kind ofprocesseslike ashing,sintering,preheating,melting,oxidizing.
• Designed for minimal space requirements in the laboratory, thanks to the highly engineered insulation design.
• Easily replaceable spare parts, modular and demountable body design, fast support service turns your furnace into a very reliable investment
• Half buried heaters at two sides and top in quartz tubes.
• Tight door insulating thanks to spring mechanism.
• Modular inner body; replacement and fully renewing the furnace.
• Homogeneous temperature gradient in the chamber thanks to similar heat loss in every directions.
• Maximized the optimum insulation thickness to reduce the temperature of the outer surface.
• Contactless outer shell for low surface temperature.
• Standard chimney with fan.Extraction of oxidizing gases which occur during the burning process and homogenous heating.
• Adjustable foot screw.
• Microprocessor based PID controller system with 2 RAMP 2 SOAK facility
• Printing facility through software only
• Accuracy: ± 2°C in temperature measurement & temperature control
• Own unique electronic design and softwares
• Imported – Tetra ISI Systemleri, Turkey based Muffle furnace and Electric Control System by Mack Universal, India.
• 12 months warranty against delivery date
• Qualification Documentation by Mack Universal (DQ, IQ, OQ & PQ)
• Wooden packaging : free of cost
PRODUCT DATA
MagmaTherm MT Series Chamber Furnace Technical Data
1100°C

5 Liter
7 Liter
10 Liter
20 Liter
40 Liter
60 Liter
100 Liter
Inner Chamber Dimensions (mm) WxHxD
150x150x225
180x160x260
200x180x300
250x200x395
300x300x445
400x300x495
460x365x595
Product Outer Dimensions (mm) WxHxD
446x618x620
476x628x655
496x648x695
546x668x790
630x785x840
730x785x890
756x833x990
Net Weight (Kg)
43
48
50
65
112
133
160
Power (W)
2.000
2.600
3.000
4.200
7.500
10.200
14.000
Max Current (A)
9.1
11.9
13.7
2x9.6 / 1x19.1
3x11.4
3x15.5
3x21.2
Electrical Connection
1 Phase
1 Phase
1 Phase
3 or 1 Phase
3 Phase
3 Phase
3 Phase
Heating Element
Fe-Cr-Al
Fe-Cr-Al
Fe-Cr-Al
Fe-Cr-Al
Fe-Cr-Al
Fe-Cr-Al
Fe-Cr-Al
Thermocouple Type
K type
K type
K type
K type
K type
K type
K type
Heating Element Placement
Embedded into brick walls
Embedded into brick walls
Embedded into brick walls
Embedded into brick walls
Embedded into brick walls
Embedded into brick walls
Embedded into brick walls
Inner Insulation Material
Insulating Fire Brick
Insulating Fire Brick
Insulating Fire Brick
Insulating Fire Brick
Insulating Fire Brick
Insulating Fire Brick
Insulating Fire Brick
Front Face Insulation Material
Insulating Fire Brick
Insulating Fire Brick
Insulating Fire Brick
Insulating Fire Brick
Insulating Fire Brick
Insulating Fire Brick
Insulating Fire Brick
Door Insulation Material
Ceramic Fibre Board
Ceramic Fibre Board
Ceramic Fibre Board
Ceramic Fibre Board
Ceramic Fibre Board
Ceramic Fibre Board
Ceramic Fibre Board
Housing Material
Steel Sheet
Steel Sheet
Steel Sheet
Steel Sheet
Steel Sheet
Steel Sheet
Steel Sheet
Housing Coating
Epoxy Powder coating
Epoxy Powder coating
Epoxy Powder coating
Epoxy Powder coating
Epoxy Powder coating
Epoxy Powder coating
Epoxy Powder coating
Chimney
Standard
Standard
Standard
Standard
Standard
Standard
Standard
Heating Element Protection
Quartz Tube
Quartz Tube
Quartz Tube
Quartz Tube
Quartz Tube
Quartz Tube
Quartz Tube
Lockable Door Handle
Sidewards
Sidewards
Sidewards
Sidewards
Sidewards
Sidewards
Sidewards
Gross Dimensions (mm) WxHxD
506x780x678
536x815x688
556x855x708
606x950x728
690x1000x845
790x1050x845
816x1150x893
Gross Weight (Kg)
57
63
67
85
136
160
190
1200°C

5 Liter
7 Liter
10 Liter
20 Liter
40 Liter
60 Liter
100 Liter
Inner Chamber Dimensions (mm) WxHxD
150x150x225
180x160x260
200x180x300
250x200x395
300x300x445
400x300x495
460x365x595
Product Outer Dimensions (mm) WxHxD
446x618x620
476x628x655
496x648x695
546x668x790
630x785x840
730x785x890
756x833x990
Net Weight (Kg)
43
48
50
65
112
133
160
Power (W)
2.000
2.600
3.000
4.200
7.500
10.200
14.000
Max Current (A)
9.1
11.9
13.7
2x9.6 / 1x19.1
3x11.4
3x15.5
3x21.2
Electrical Connection
1 Phase
1 Phase
1 Phase
3 or 1 Phase
3 Phase
3 Phase
3 Phase
Heating Element
Fe-Cr-Al
Fe-Cr-Al
Fe-Cr-Al
Fe-Cr-Al
Fe-Cr-Al
Fe-Cr-Al
Fe-Cr-Al
Thermocouple Type
K type
K type
K type
K type
K type
K type
K type
Heating Element Placement
Embedded into brick walls
Embedded into brick walls
Embedded into brick walls
Embedded into brick walls
Embedded into brick walls
Embedded into brick walls
Embedded into brick walls
Inner Insulation Material
Insulating Fire Brick
Insulating Fire Brick
Insulating Fire Brick
Insulating Fire Brick
Insulating Fire Brick
Insulating Fire Brick
Insulating Fire Brick
Front Face Insulation Material
Insulating Fire Brick
Insulating Fire Brick
Insulating Fire Brick
Insulating Fire Brick
Insulating Fire Brick
Insulating Fire Brick
Insulating Fire Brick
Door Insulation Material
Ceramic Fibre Board
Ceramic Fibre Board
Ceramic Fibre Board
Ceramic Fibre Board
Ceramic Fibre Board
Ceramic Fibre Board
Ceramic Fibre Board
Housing Material
Steel Sheet
Steel Sheet
Steel Sheet
Steel Sheet
Steel Sheet
Steel Sheet
Steel Sheet
Housing Coating
Epoxy Powder coating
Epoxy Powder coating
Epoxy Powder coating
Epoxy Powder coating
Epoxy Powder coating
Epoxy Powder coating
Epoxy Powder coating
Chimney
Standard
Standard
Standard
Standard
Standard
Standard
Standard
Heating Element Protection
Quartz Tube
Quartz Tube
Quartz Tube
Quartz Tube
Quartz Tube
Quartz Tube
Quartz Tube
Lockable Door Handle
Sidewards
Sidewards
Sidewards
Sidewards
Sidewards
Sidewards
Sidewards
Gross Dimensions (mm) WxHxD
506x780x678
536x815x688
556x855x708
606x950x728
690x1000x845
790x1050x845
816x1150x893
Gross Weight (Kg)
57
63
67
85
136
160
190
1250°C

5 Liter
7 Liter
10 Liter
20 Liter
40 Liter
60 Liter
100 Liter
Inner Chamber Dimensions (mm) WxHxD
150x150x225
180x160x260
200x180x300
250x200x395
300x300x445
400x300x495
460x365x595
Product Outer Dimensions (mm) WxHxD
446x618x620
476x628x655
496x648x695
546x668x790
630x785x840
730x785x890
756x833x990
Net Weight (Kg)
49
56
60
81
112
133
160
Power (W)
2.250
3.500
3.500
4.500
7.500
10.200
14.000
Max Current (A)
10.3
16
16
2x10.3/ 1x20.6
3x11.4
3x15.5
3x21.3
Electrical Connection
1 Phase
1 Phase
1 Phase
3 or 1 Phase
3 Phase
3 Phase
3 Phase
Heating Element
Fe-Cr-Al
Fe-Cr-Al
Fe-Cr-Al
Fe-Cr-Al
Fe-Cr-Al
Fe-Cr-Al
Fe-Cr-Al
Thermocouple Type
K type
K type
K type
K type
K type
K type
K type
Heating Element Placement
Embedded into brick walls
Embedded into brick walls
Embedded into brick walls
Embedded into brick walls
Embedded into brick walls
Embedded into brick walls
Embedded into brick walls
Inner Insulation Material
Insulating Fire Brick
Insulating Fire Brick
Insulating Fire Brick
Insulating Fire Brick
Insulating Fire Brick
Insulating Fire Brick
Insulating Fire Brick
Front Face Insulation Material
Insulating Fire Brick
Insulating Fire Brick
Insulating Fire Brick
Insulating Fire Brick
Insulating Fire Brick
Insulating Fire Brick
Insulating Fire Brick
Door Insulation Material
Ceramic Fibre Board
Ceramic Fibre Board
Ceramic Fibre Board
Ceramic Fibre Board
Ceramic Fibre Board
Ceramic Fibre Board
Ceramic Fibre Board
Housing Material
Steel Sheet
Steel Sheet
Steel Sheet
Steel Sheet
Steel Sheet
Steel Sheet
Steel Sheet
Housing Coating
Epoxy Powder coating
Epoxy Powder coating
Epoxy Powder coating
Epoxy Powder coating
Epoxy Powder coating
Epoxy Powder coating
Epoxy Powder coating
Chimney
Standard
Standard
Standard
Standard
Standard
Standard
Standard
Heating Element Protection
None
None
None
None
None
None
None
Lockable Door Handle
Sidewards
Sidewards
Sidewards
Sidewards
Sidewards
Sidewards
Sidewards
Gross Dimensions (mm) WxHxD
506x780x678
536x815x688
556x855x708
606x950x728
690x1000x845
790x1050x845
816x1150x893
Gross Weight (Kg)
63
71
77
101
136
160
190
1300°C

5 Liter
7 Liter
10 Liter
20 Liter
40 Liter
60 Liter
100 Liter
Inner Chamber Dimensions (mm) WxHxD
150x150x225
180x160x260
200x180x300
250x200x395
300x300x445
400x300x495
460x365x595
Product Outer Dimensions (mm) WxHxD
446x618x620
476x628x655
496x648x695
546x668x790
630x785x840
730x785x890
756x833x990
Net Weight (Kg)
49
56
60
81
112
133
160
Power (W)
2.250
3.500
3.500
4.500
7.500
10.200
14.000
Max Current (A)
10.3
16
16
2x10.3/ 1x20.6
3x11.4
3x15.5
3x21.3
Electrical Connection
1 Phase
1 Phase
1 Phase
3 or 1 Phase
3 Phase
3 Phase
3 Phase
Heating Element
Fe-Cr-Al
Fe-Cr-Al
Fe-Cr-Al
Fe-Cr-Al
Fe-Cr-Al
Fe-Cr-Al
Fe-Cr-Al
Thermocouple Type
S Type
S Type
S Type
S Type
S Type
S Type
S Type
Heating Element Placement
Embedded into brick walls
Embedded into brick walls
Embedded into brick walls
Embedded into brick walls
Embedded into brick walls
Embedded into brick walls
Embedded into brick walls
Inner Insulation Material
Insulating Fire Brick
Insulating Fire Brick
Insulating Fire Brick
Insulating Fire Brick
Insulating Fire Brick
Insulating Fire Brick
Insulating Fire Brick
Front Face Insulation Material
Insulating Fire Brick
Insulating Fire Brick
Insulating Fire Brick
Insulating Fire Brick
Insulating Fire Brick
Insulating Fire Brick
Insulating Fire Brick
Door Insulation Material
Ceramic Fibre Board
Ceramic Fibre Board
Ceramic Fibre Board
Ceramic Fibre Board
Ceramic Fibre Board
Ceramic Fibre Board
Ceramic Fibre Board
Housing Material
Steel Sheet
Steel Sheet
Steel Sheet
Steel Sheet
Steel Sheet
Steel Sheet
Steel Sheet
Housing Coating
Epoxy Powder coating
Epoxy Powder coating
Epoxy Powder coating
Epoxy Powder coating
Epoxy Powder coating
Epoxy Powder coating
Epoxy Powder coating
Chimney
Standard
Standard
Standard
Standard
Standard
Standard
Standard
Heating Element Protection
None
None
None
None
None
None
None
Lockable Door Handle
Sidewards
Sidewards
Sidewards
Sidewards
Sidewards
Sidewards
Sidewards
Gross Dimensions (mm) WxHxD
506x780x678
536x815x688
556x855x708
606x950x728
690x1000x845
790x1050x845
816x1150x893
Gross Weight (Kg)
63
71
77
101
136
160
190